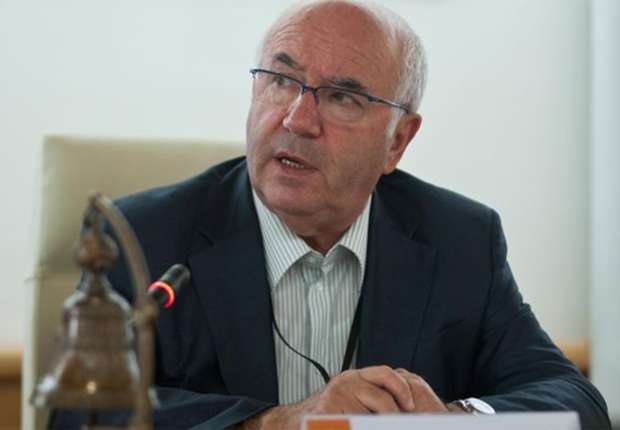 The FIGC vice-president has courted much controversy lately, and the Italian game's ability to deal with the situation will say much about its readiness for the future.
He has a string of criminal convictions to his name and is currently at the centre of a racism and sexism storm in Italy, but Carlo Tavecchio remains the front-runner to replace Giancarlo Abete as the president of the FIGC.
While Italian football appeared to be in enough disarray in June when the Azzurri's early exit from the World Cup was followed by the resignations of Abete and coach Cesare Prandelli, the headlines surrounding the favourite to become the head of the nation's governing body has plunged the game in Italy into a state of significant turmoil.
No stranger to controversy thanks to his having been sentenced for a total of 16 months of prison time for offences including forgery, tax evasion, falsification of records and abuse of office, Tavecchio is now causing a stir at the top of Italian football.
A stalwart of 15 years as the head of the Lega Nazionale Dilettanti – Italy's amateur football structure – Tavecchio was originally backed by 18 of the 20 Serie A clubs in his bid to pip former Milan star Demetrio Albertini to the FIGC presidency at the election on August 11.
"In Italy we get some Opti Poba, who previously ate bananas and then suddenly becomes a first-team player with Lazio"


- Carlo Tavecchio
But the publication of his recent comments regarding foreign players, when discussing the need for work permits in Italian football, have caused many to withdraw their support.
"In England, they identify the players coming in and, if they are professional, they are allowed to play," Tavecchio said at a meeting of Italy's amateur leagues.

"Here instead we get some Opti Poba, who previously ate bananas and then suddenly becomes a first-team player with Lazio. That's how it is here. In England, you need to demonstrate what you have on your CV and your pedigree."
His decision to label foreign players with a hypothetical name and the reference to bananas immediately caused uproar, and there has since been evidence that Tavecchio, who has been the FIGC's vice-president since 2009, made a similarly offensive remark regarding women in football.
"We intend to give dignity to women in football on an aesthetic view as well," he told Rai 3 in May 2014.
"Until now it was thought women were handicapped subjects compared to the male in stamina, resistance, physical and athletic terms.
"Instead, we have found they are very similar."
CONVICTIONS | Tavecchio's rap sheet


1970

4 months - forgery

1994

2 months, 28 days - tax evasion

1996

3 months - failure to pay insurance

1998

3 months - falsification of reports

1998

3 months - abuse of office
The pressure on the 71-year-old has resulted in him making a public apology regarding the 'banana' comment, while Fifa has written to the FIGC asking for a full explanation of the incident. But Tavecchio has seemingly lost all hope of winning over the likes of Fiorentina, Sassuolo, Sampdoria and Cesena, all of whom have decided not to back him any longer.
Yet some high-profile members of Italian football administration remain in his corner, including Milan joint-CEO Adriano Galliani.
"It was certainly an unhappy joke, but it ends there," said Galliani. "Tavecchio's life has always been devoted to institutions, it's certain he is no racist and it was just a little joke."
Those words come despite Galliani's colleague Barbara Berlusconi having been the subject of a stinging riposte from Tavecchio after she doubted the vice-president's suitability for the top role.
"The dear lady does not decide on who will be nominated as the new President of the FIGC," Tavecchio countered.
"It is down to the delegates of 1.5m registered members."
Some still regard Tavecchio as a representative of the future, despite his rather archaic comments, with Lega Serie B president Andrea Abodi insisting: "Demetrio Albertini is a sporting director, but he still needs to gain experience in leadership. It may seem a paradox, but Tavecchio stands for the new."
But a country which only last year courted headlines when Kevin-Prince Boateng led Milan off the field due to racist abuse in a friendly would do well to avoid further major controversy over such a delicate subject.
Tavecchio's candidacy has received a hit, but he remains in the driving seat in the presidency race. What happens next could well have a bigger effect on Italian football's image than anything that occurred in Brazil this summer.