The Chelsea man has come under intense scrutiny following his lacklustre performances in Brazil bringing his future as the creative hub of the Super Eagles into question
In my little over four decades on this earth, I have been fortunate enough to remember great footballers that have worn Nigeria's colours. Footballers that as a kid used to make me run out to attempt some of the stuff they did on our street in Surulere, Lagos, and later on our fields in Festac Town. This is not really about them. For now.
When in 2005 Samson Siasia took players to that year's U-20 World Cup I kept on reading and hearing about one player destined for greatness there. I was intrigued when I saw who – John Obi Mikel. In every game I watched the team play I struggled to see what the fuss was about. However, I was determined to give him the benefit of the doubt as I thought I was judging him with ridiculously high standards.
I am sorry to report to myself that I was not. Mikel is as ordinary or as regular a footballer as it is possible to come across. He is at best a functional one who can play a role that is as technically limiting and not athletically tasking as the one he has made a career out of at Chelsea Football Club.
It then is a deep mystery to me how a footballer so limited technically from a country that has produced the likes of Segun Odegbami, Henry Nwosu, Etim Esin, Kanu Nwankwo, Austin 'Jay Jay' Okocha, Samson Siasia and a host of others can be hoodwinked for so long into accepting the "greatness" or talents of Mikel.
When Nigeria won the AFCON in South Africa, while he contributed very little creatively he at least did a lot of spade work in marking and tracking back. His sensational block to deny Lacina Traore in the second half as the Ivory Coast tried for the equalizer in the quarter-final stands out to date.
In Brazil for the World Cup – barring a few minutes in the second half against Argentina – Mikel was by far Nigeria's worst player in all the country's four matches. He did nothing creatively. He did nothing defensively. He gave the air that playing for Nigeria was beneath him. One of the worst sights at this World Cup for me was watching him give away possession – yet again – and then make no attempt whatsoever to try and recover the ball back or even chase back to get into position. This happened in every match.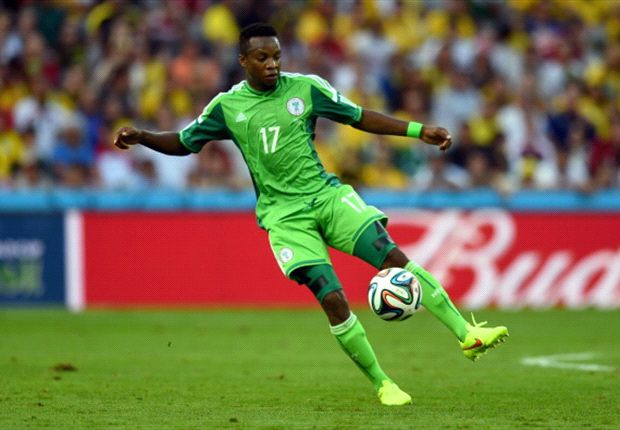 Onazi | The real heart of Nigeria's midfield
Against France, three times in the first half, he lost possession in Nigeria's half that could have led to concession of goals but did not, I would watch to see if he would hold his hands up to apologize to his colleagues. He never did. Or I never saw him do it. At Chelsea, he would be quick to apologize, clearly for the fans to see he has acknowledged his mistakes.
His play was discussed all the time at the media centre in Brazil by the Nigerian journalists after every match! In one of the matches, during play, I was asked by a local at half-time: "What is wrong with Mikel?" To which I answered, "that is how he plays for Nigeria."
The biggest indictment of the Chelsea player was that Nigeria's game fell apart against France as soon as Ogenyi Onazi left the pitch – victim of an appalling challenge by Blaise Matuidi. Onazi was the man who ran Nigeria's midfield and yet Mikel wore our jersey number 10.
The power of the English Premier League has had such an effect on Nigerians that it seems that once a footballer plays in that league, he is accorded star status irrespective of his performances in a national shirt. That is clearly the case of Mikel.
Sitting with two ex-Nigeria internationals who played in midfield, I did mention to them that I had never been sold on Mikel. Thinking I was trying to draw them out and make a story of it all, they were first reluctant to speak until I started to enumerate my reasons.
He is not quick, he is not even athletic and the worst part is that he does not have the quick feet on the ball that the likes of Austin Okocha and Samson Siasia have or had in spades. I will spare both of them and not reveal their names or what exactly they think about the player.
Player Stats —
Minutes Played
90

Touches
60

Duels won
33.3%
33.3%

Aerial duels won
100%
100%

Interceptions
0



Goals
0

Total Shots
0

Shots On Target
0

Goals from Inside the Box
0

Goals from Outside the Box
0

Total Tackles
1
Tackles Won
100%
100%
Clearances
4


Total Passes
48

% of Passes Long
19%
19%

Passing Accuracy
85%
85%

Total Crosses
0

Succesful crosses
0%
0%

Shot Assists
2

Goal Assists
0




Fouls Won
2

Yellow Cards
0

Fouls Conceded
5

Red Cards
0
Stephen Keshi failed woefully in allowing Mikel start and complete most of the matches at this World Cup. However, when one looks at the poverty of the bench, the departing coach probably tied his own hands with the squad he selected.

Mikel should please drop our Nigerian number 10 jersey. He has desecrated that shirt at this World Cup and if he feels it is beneath him to sweat, run, mark and tackle while in the Nigerian shirt, he should please stay away. Nigeria needs only those who genuinely want to play for the country.






Follow Calvin Emeka on