The future of the Chilean star is still in doubt, but he would be committing a grave error if he departed Turin for a club at the beginning of a massive rebuilding operation.
"I am the best player in the world in my position. Nobody puts in as much defensive work as I do and then scores a lot of goals on top of it as well. It's quite clear for me that I'm the best in my role."
Even if he says so himself, few will argue that there is a better central midfielder on the planet than Arturo Vidal. Indeed,
the partly-converted Philipp Lahm was the only player in the Chilean's role to finish above him. In terms of completeness – no one even gets close to Vidal. Physically, technically, mentally, tactically – the ability to run, press, pass, head, tackle and score – he ticks every box.
Such is Vidal's brilliance, it would be completely understandable should he wish to depart Juventus this summer. The Bianconeri's holding company, Exor, has made it pretty clear in recent weeks that it is not prepared to make the required investment to take Juve to a Champions League-challenging level. Politically, there are problems at 32 Corso Galileo Ferraris – hence the recent resignation of coach Antonio Conte.
Juventus exited the Champions League in the group stages last season, and even if Vidal stays they look set to begin the 2014-15 campaign with a weaker side. The summer arrivals of Alvaro Morata, Patrice Evra and Roberto Pereyra will not strengthen the first XI and managing director Giuseppe Marotta seems incapable of improving the playing personnel any further after failing to close a deal for Alexis Sanchez. An already ageing and creaking defence is one year older, Juve's wide problem has not been solved, while Conte has been replaced by the much-maligned Massimiliano Allegri. Even Juve's domestic dominance looks under threat from Roma.
"The new arrivals are not enough. Andrea Pirlo is a year older, and now Conte has left too," Fabio Cannavaro told
Goal
when asked about Juve's prospects next season.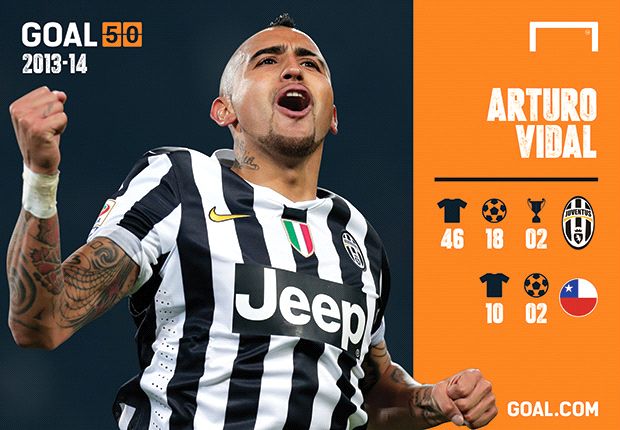 A player of Vidal's calibre deserves to win the biggest prize in club football. And given the recent developments you would forgive him for concluding that he needs to depart Piedmont in order to make that happen.
But choosing to leave Juventus for Manchester United would be a crazy decision.
Even with Vidal among their ranks, as the potential starting XI below demonstrates, the Red Devils are a far weaker side than the Bianconeri. New manager Louis van Gaal is overseeing a massive rebuilding operation at Old Trafford following the disastrous David Moyes experiment. The shelf-life of the club's star duo, Wayne Rooney and Robin van Persie, is not too far from expiry, while in releasing Nemanja Vidic, Rio Ferdinand, Ryan Giggs and Evra, United are losing more than 2000 games' worth of experience. Those who have arrived this summer so far at a heavy cost, like Luke Shaw and Ander Herrera, will hardly transform United into instant world-beaters.
The Red Devils failed to even qualify for the 2014-15 Champions League. By the time they potentially return to the knockout stages of Europe's premier club competition, Vidal will be almost 29.
And by then, United will still be well short of the European elite. Despite executive vice-chairman Ed Woodward revealing that the club are so strong financially that they haven't set a transfer budget, van Gaal needs time to construct the next great Manchester United side. They are light-years behind Premier League favourites Chelsea, let alone the cream of the continent - Real Madrid and Bayern Munich.
If Vidal is to leave Juve, then it should only be to one of these three clubs as they can offer him the chance of instant success on the grandest stage. If an offer is not forthcoming from a side ready for major honours, which seems to be the case, then the World Cup star is surely better staying put for another 12 months.
Allegri's insistence on Tuesday that Vidal would not be leaving holds little weight. Clubs do not publicly admit that their player is available or else the transfer fee plummets. Upon arriving back in Italy from his holidays on Thursday, Vidal assured a persistent journalist harassing him at the airport that he was not joining United. Yet the Chilean's body language and his flustered and awkward reactions, which ended in him once again refusing to commit to Juventus, made it pretty clear that he was leaving his options open and that Manchester is a possible destination.
But as big a club as they are, Vidal has no time to lose and in his 28th year he should not even be considering a team who are rebuilding. Not if he values sporting achievement over financial gain – Vidal earns €4.5 million a year at Juventus Stadium. United could add at least another €2m on to that total annually if they do indeed table an official offer.
Vidal's future should start to become clear in the next seven days. If he departs with his team-mates for the pre-season tour of Asia, then his chances of remaining increase significantly. Publicly, Juventus stress that he is not for sale, yet the uncertainty cannot be disguised.
The ex-Leverkusen star must pick his next move very wisely. A player with his talent and reputation should be able to choose his next destination. But if he joins Manchester United, he really will risk wasting the last few years of his career at his peak.
-GOAL