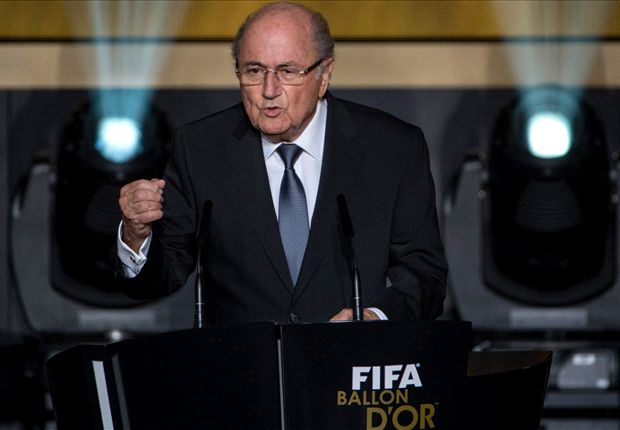 The Fifa president says Europe's governing body needs to be courageous and announce a candidate or leave him to get on with the job of leading world football
Sepp Blatter has told Uefa and Michel Platini to "be courageous" and either present a candidate to replace him as Fifa president or leave him to get on with the job.
The 78-year-old is the runaway favourite to win May's presidential election and remain in charge for four more years, despite dissenting voices from within the European governing body.
And, while Uefa president Platini has promised an update on the organisation's stance on the matter at Monday's Executive Committee meeting, Blatter believes that Europe should put up or shut up.
"All of those that want to get rid of me, they should come," Blatter told CNN. "All this opposition is coming, and it is unfortunate to say it is coming from Nyon; it is coming from Uefa.
"They don't have the courage to come in so [they should] let me go, and be respectful.
"Football is a team sport, so let's go together as a team. I invite Uefa, especially the leaders of Uefa who are so bitterly attacking me… Join, join, because football is a community."
While Uefa has been outspoken in its opposition to Blatter, with several of its members having vociferously confronted the Swiss at a conference in Sao Paulo in June 2014, no alternative candidate has yet been presented.
And with the deadline for submission of candidate papers approaching on Thursday, time is running out for the European body.
Regardless of whether there is any last-minute entrant into the race, Blatter insists he is more than ready to continue in the face of mass opposition.
"It is impossible to make everybody happy. If I had only positive press, that would not be good," he continued. "I like criticism, but only as long as it is fair criticism.
"I have not finished my mission because it's a mission to be in football. We started in 2011 the reform process, and that process is not over."
So far, French former Fifa deputy general secretary Jerome Champagne, Jordanian FA chief Prince Ali Bin Al Hussein and ex-France international David Ginola have announced their intentions to challenge Blatter but have until Thursday's deadline to submit the approval of five national associations.
Player agent Mino Raiola has also recently expressed an interest in running for the role.